Analyzing Claude Giroux's Historically Good 2017-18
The dependable Flyers forward put up one of the best single-season performances we've seen in recent memory just two years ago, and the lack of credit he's gotten for it is obscene. Here's why.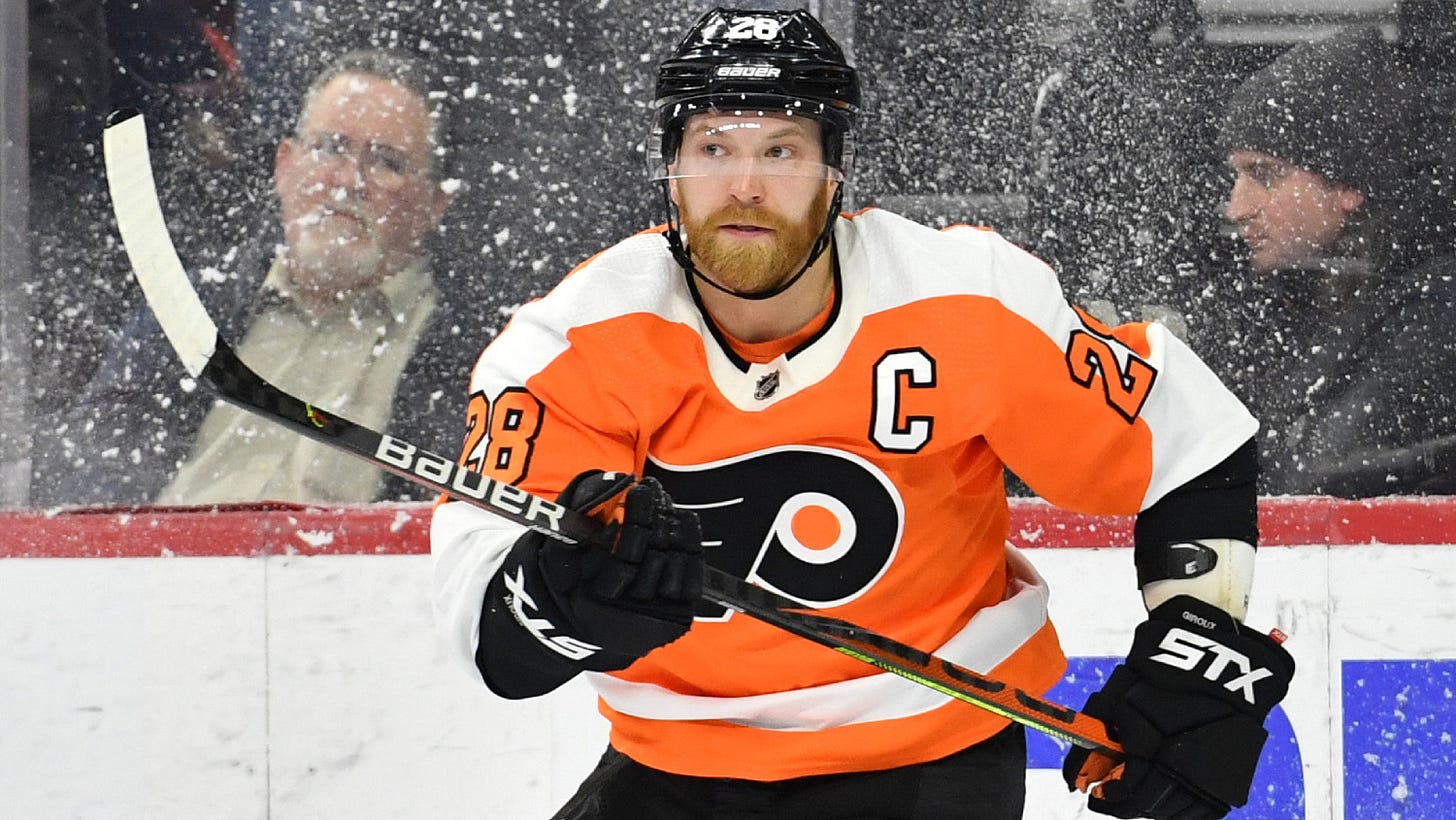 It's the end of a hot day just before summer solstice in June 2018. The Washington Capitals are just weeks removed from their first-ever Stanley Cup victory, and the Buffalo Sabres are set to put the finishing touches on their rebuild and are expected to select Swedish phenom Rasmus Dahlin first overall in the 2018 draft, an addition that will surely elevate the team to the status of being a contender. Right now, though, it's NHL Awards Day. New Jersey Devils winger Taylor Hall has just won his first-ever Hart Trophy as the league's most valuable player for the 2017-18 season. The 2018 Hart debate had raged on for months, with Colorado's Nathan MacKinnon making the job of being an award voter a difficult one after his breakout performance that season. To this day, almost two years after the fact, the question is often still asked: Who deserved the Hart Trophy, and thus, the honour of being considered the league's Most Valuable Player, in 2017-18? Was it Hall, or MacKinnon?
What if I were to tell you that it was neither of them? What if I were to tell you that it was a player who, at first glance, didn't appear to be carrying his entire squad on his back, like Hall and MacKinnon were credited with doing? What if I were to tell you that it was a player who not only was the league's true most valuable that season, but someone who had the most impressive single-season performance of the entire decade, and maybe even the entire 21st century to date?
Philadelphia Flyers winger Claude Giroux is known for being a rock-solid, consistent, steady player, who is among the elite players in the league, but he sure isn't someone who most people would think to be the player I was describing in the previous paragraph. But Claude Giroux is indeed that player, and the fact that his 2017-18 season was never glorified and remembered to the degree that it should have been in the hockey world isn't surprising to me, but it's definitely an injustice at the very least. With the help of my visuals and statistics provided as a result of the great work by the folks at Evolving-Hockey, PuckIQ, as well as Corey Sznajder, and C.J. Turtoro, I'll be delving into the Hart Trophy debate of 2018, making a case for a player that astonishingly didn't even come top-3 in voting.
2018 Hart Trophy: The Case for Claude Giroux
Claude Giroux, to put it simply, was an absolute stud in 2017-18. He was a solid contributor everywhere he went, and was an extremely valuable asset in every area of the game you can think of. If the worst aspect of your season on the ice was zone entries and you're still in the top third of the league in that regard, you probably had a season to remember. The xSPAR section is something else, as we can see Giroux was virtually irreplaceable in every category, and finished with the highest Expected Standings Points Above Replacement in the entire league.
Giroux's xSPAR in 2017-18 was 11.5. The Flyers finished with 98 points that year, so if Giroux's performance was good enough to be worth 11-12 more standings points than a replacement-level player, is it fair to assume that Giroux is the reason the Flyers made the playoffs? Likely. The Flyers didn't even have home-ice advantage in the playoffs, losing in 6 games to Pittsburgh in Round 1. They also got 14 of their 98 points as a result of losing in overtimes and shootouts, and had the fewest wins out of any team that made the playoffs that year, with 42. This team shouldn't have been anywhere near the playoff picture, not even within striking distance, and Giroux dragged them there by the skin of their teeth. I feel like the fact that the Devils and Avalanche were both wild card teams in 2018 sold a lot of people on either Hall or MacKinnon as the best candidate to win this award. It's often forgotten that Hall didn't have a great supporting cast in New Jersey by any means, but that team was only one point below the Flyers in the standings, and had two more wins in the regular season as well.
What's more is that Claude Giroux's xSPAR of 11.5 in 2017-18 is the highest single-season xSPAR total that any player has ever put up. xSPAR leaderboards are available dating back to the 2007-2008 season. That's thirteen seasons of the statistic being in existence, and Giroux accumulated the highest total in one season that we've ever seen, a full standing point ahead of Mark Stone in 2018-19 and Steven Stamkos in 2011-12, both of whom had an xSPAR of 10.5 in those respective seasons. That's not just MVP-worthy, that's historic. However, Giroux only got 10 first-place votes for the Hart Trophy to Hall's 72, and MacKinnon's 60, and he finished 4th place in overall voting for the award. Let's look at the other top-5 vote-getters and see how they compared to Giroux in 2017-18.
Hall was deployed quite similarly to Giroux in 2017-18 in terms of shift starts, and was actually pretty good defensively, just not to the extent that Giroux was that season. He also wasn't tasked with eating tough minutes to the degree that Giroux was, and his market value is higher, but that's due to how strong he was in previous years (yes, the trade sucked for Edmonton the second they made it). The only areas in which Hall had a clear leg up on Giroux were in transition and on the powerplay, but the difference between the two wasn't large, and again, Giroux was far superior defensively. Hall definitely put up competition, and would have been my pick for runner-up in the MVP sweepstakes, but in my opinion, he didn't have a season that was stellar enough to provoke me to rank him above his aforementioned counterpart.
Nathan MacKinnon had a fine season and broke out when the Avs needed him to most, but to me, the difference between him and Hall in 2017-18 wasn't terribly close, and the difference between him and Giroux was even less so. MacKinnon was an elite offensive force, but not to the standard of Giroux or Hall, and defensively, he really lags behind both of them. He didn't generate much on the powerplay, but used a great shot/elite finishing ability to get top-tier results on that front. He was a legend in transition, and in terms of competition, he saw tougher minutes than Hall, but didn't face assignments as difficult as Giroux did. It's no wonder the Avalanche started him the neutral zone a ton, considering how great he was at entering the offensive zone.
Like Hall, Anze Kopitar's market value is boosted by two elite prior seasons to this one, and to his credit, he was quite good on the penalty kill considering he was the only Hart finalist who met the 100-minute PK TOI cutoff, but I don't think he puts up much competition to Giroux, especially at even-strength. Offensively, he saw more results than you would expect given the rate at which he generated quality shots, and he has a reputation for being one of the best defensive forwards of the generation, which he once was, but some of that had worn off by this season, as Giroux and Hall were both better defensively than Kopitar in 2017-18. He was very good on the powerplay, but I wouldn't say he was of elite caliber in that regard that season, and despite the fact that he was elite in transition and ate some of the toughest minutes in the league, so he misses out on winning the award for me.
See, Connor McDavid had the whole defense thing figured out in his sophomore season a year before, but he gave that all up in favour of being the league's best offensive player. He also happened to be the best in the league in transition in 2017-18 as well. On the powerplay, he was the polar opposite of MacKinnon: He generated a ton, but didn't see results, which is very uncharacteristic for him. The story with McDavid during the season in question was as it still is today: He's probably the best center in the league, he's unreal offensively, but hockey is a two-way game, and McDavid, as good as he is at it, is a one-way player. For that, he doesn't put up competition to Claude Giroux for Hart Trophy honours in 2017-18.
So, now that we've seen all these players individually, how do they compare statistically side-by-side?
Looking at this visual, we can see that Claude Giroux was the best player of all Hart Trophy finalists in terms of managing quality shot share at even-strength. He was second offensively only to McDavid, and was the best defensively by a fair bit. Hopefully this provides a bit more clarity as to why Hall is my runner-up: He was competent defensively, unlike MacKinnon and McDavid, and while he's neck-and-neck with Kopitar in this regard, Kopitar was far inferior offensively.
Something I found interesting when I was mulling over the data I planned to use for this piece was that Claude Giroux was in the 96th percentile in terms of expected goals above replacement on the penalty kill, despite not meeting the 100-minute TOI cutoff, which is quite outstanding. He played 64 minutes on the PK, and was quite useful during those minutes as well. So, let's see how these Hart finalists compare to each other on special teams, using a 50-minute TOI cutoff on the penalty kill instead of 100:
To me, this is where Giroux absolutely runs away with it. Only Kopitar played on both the powerplay and the penalty kill, and Giroux managed quality shot share to a considerably higher degree. Simply put, Giroux was dominant at even-strength, and on both special teams, to a degree simply unmatched by anyone else in the league in 2017-18.
In recent history, we have not seen a player as dominant offensively at even-strength, defensively at even-strength, on the powerplay, or on the penalty kill, as Claude Giroux was in 2017-18. To be as big of a threat as he was on all four fronts is almost unheard of, and not many players have done so in NHL history. For that reason, I believe Giroux should not only have been the slam-dunk Hart Trophy winner that season, but should be recognized for having one of the best seasons we have ever seen from any player in league history, as he accounted for a ridiculous 31.5% of his team's total xSPAR in 2017-18. The fact that he was never recognized for his performance to the degree that he should have been remains a tragedy that I'll often ponder, but it's also an oddly fitting injustice that despite his gargantuan efforts, his team only made the playoffs by a single point, and bowed out without much of a fight in 6 games.