Are the Minnesota Wild in Cap Hell or Getting What They're Paying For?
The team widely seen as the Most Mediocre Franchise in the NHL is allocating their money in a way no one can agree on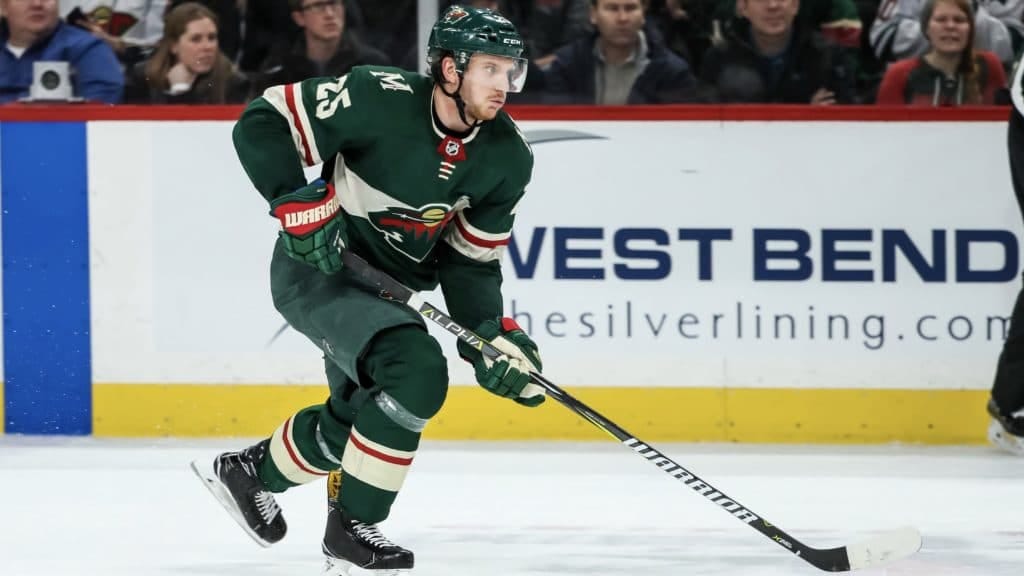 On a mid-afternoon Tuesday in September, the sort of environment where Hockey Twitter lets their guard down just a little too easily (in other words, the perfect time for news to break), the Minnesota Wild extended their coveted shutdown man, Jonas Brodin, to a 7-year-by-$6M contract, thus ending the ridiculous mock trades that the hockey stats community had been posting all summer about him. With this, the Wild maintain their reputation of extending players that the media really doesn't care about into their mid-30s at a steep price. The general consensus among fans everywhere about this signin seems to be that the money is fine, but the term is too steep. This comes a little over a year after a similar extension that was dished out to Jared Spurgeon, a right-handed defenseman who's a tad weaker than Brodin defensively but infinitely better on offense. Of course, the Wild do have a history of signing players considerably weaker than this to contracts considerably bigger. Through this mini organizational assessment of sorts, I'm going to try to pinpoint the exact position of where the Wild stand and whether these contracts, and the others that they have on the books for a while, could ultimately be wins for both team and player.
The Salary Cap Situation
The Wild are in a bit of a weird spot with the salary cap at the moment. They have about $13M in space, but more than half of their forwards will need new contracts after next season. They could probably let Eric Staal head to free agency but players like Kevin Fiala and Joel Eriksson Ek should be in their long-term plans. On defense, it's a mixed bag to say the least. The aforementioned Spurgeon is going to be paid $7.575M until the end of the 2026-27 season, Ryan Suter's albatross contract expires when he's 41, and with Brodin locked up, Matt Dumba becomes possibly their biggest trade chip, making $6M per year until the end of the 2022-23 season. Carson Soucy is their only NHL-regular defenseman that is not currently signed to a deal at this moment. Overall, their $13M-and-change in cap space ranks about mid-table among the other 30 NHL teams as of now, but that ranking (and possibly dollar figure) will change over the offseason.
The worst contracts on this team have to be Zach Parise's and Ryan Suter's, two unnerving reminders of the Chuck Fletcher days in Minnesota. They are aged 36 and 35 respectively, and will each be paid until the end of the 2024-25 season. Their identical deals take up a combined 18.5%, roughly, of today's salary cap, which is horrible news for a team with a better prospect group than most give them credit for, and a skater group that is most definitely good enough to make the playoffs. The Mats Zuccarello deal, in hindsight, was certainly not the best idea; he's going to get more than he's worth for 4 more seasons. The only Wild forward that will certainly receive a pay raise this year is Jordan Greenway, and between new deals for Fiala, Eriksson Ek, and Soucy, that $13M in cap space could be all but gone in a year's time.
The crazy part about all this, though, is that if you're going to have two players in their mid-30s on contracts that pay more than $7M per year for the next 5 years, Zach Parise and Ryan Suter are probably your best options. They haven't aged too horribly up to this point by the standard of other players their age who are considerably overpaid. That could change very quickly, however.
Right around the time that these deals expire, some of their top prospects that will have broken through to the NHL will have to get paid too. Yes, that probably includes Kirill Kaprizov. In the age of a global pandemic and economic downturn, the Minnesota Wild are, at this very moment, more financially "free" than they will be for possibly the entirety of this upcoming decade. This is an organization that I believe, at the very least, isn't getting worse when it comes to on-ice performance, but if they're cash-strapped and unable to make any significant additions to the roster in a tight central division a few years down the road, I don't think the extension of Jared Spurgeon should be to blame. Even more so, I certainly don't think the extension of Jonas Brodin should be either. Let me explain.
The Jonas Brodin Contract: A Breakdown
The best shutdown defenseman was taken off the market this afternoon. He'll be a member of the Wild for the remainder of his prime and possibly his entire career, and so the Minnesota Wild continue to get great defense out of their players for a long time, if absolutely nothing else. Brodin certainly stacks up well in both of my interpretations of macro-level hockey models:
Only Marco Scandella had a better 5v5 xGA rating among defensemen this season. As well, his 9.0 even-strength hbGAR figure was second to none among defensemen, and only Ryan O'Reilly among all NHL skaters. The stats like him, and I'll say this from my time spent watching Brodin play: He certainly goes about his business in a subtle way but I can very easily see why Wild fans like him. He's a deceptively strong skater and never gives opposing puck-carriers in the middle of the ice. He doesn't guard the blue line in the same way that his teammate Spurgeon does, for example, who I can say I've watched more than Brodin, but effective nonetheless. Since defense, in the interpretation of isolates, is so hard to see and compare between players, I can't say I would have formulated the opinion that I have of him without his shot suppression metrics, but my opinion considering both evaluation tools is that he's worth the money.
The term is what was difficult for many people to digest. Under the assumption that the NHL schedule will be back to what we used to know it as by the time this deal is up, Brodin will be days away from his 34th birthday when his newly-signed contract expires. As fans, we're very used to seeing NHL players who are elite in one facet of the game fall off completely as early as 32-33 years old. However, does this apply to defense specifically?
I went to find out. The results of this little experiment certainly suggest that Wild fans should not be worried about this term. I tracked how league-average varies in three stats: Offense GAR, Defense GAR, and Standings Points Above Replacement, by age. Here's what I found:
In terms of value, the league average is at its peak in terms of even-strength offense pretty much the second young players enter the league. Overall value is on a bit of a slower decline, with the window between age 19 and 24 generally being a player's peak seasons. However, look at defense: The trend line is perfectly straight. In fact, players are generally at their peak in terms of defensive value at the age of 33, which is the last of Brodin's new contract. The best window for defensive performance is between the ages of 25 and 33; he's currently 27. I didn't include ages 40 and over in this dataset because the sample size of players who are even in the league by that age is very small.
I'm about to present the case of a specific player who somewhat follows this trend. Arizona's Niklas Hjalmarsson, arguably the best defensive player of the 2010s before finally falling off amid an injury-riddled few months in 2019-20, maintained defensive prowess up until his age-32 season (this one).
In fact, 4 of Hjalmarsson's 6 best defensive seasons as an NHLer to this point came in his age-28 season or later. If Brodin has a very similar career arc, then the Wild can expect him to provide his standard amount of defensive value, at worst, for 2/3 of the duration of this contract. That's not a bad deal. If Brodin follows the league-average trend over the last 13 years, then the Wild will be getting top-notch value for all of it. Not exactly a discouraging trend there.
Obviously, there is a physical component to how Brodin is effective on defense, and there's no guarantee his speed will last him at this amount of effectiveness all the way through his age-33 season. However, NHL players as one big group, and elite shutdown guys before him, have provided significant value past their 30th birthday. I don't see any reason to have a gloomy outlook upon the final two years of that contract just yet.
Ultimately, I hold cautious optimism with Jared Spurgeon's contract as well. I doubt he'll be any better than what we saw from him this year, which was nothing short of outstanding, but he has led NHL defensemen in xWAR since the start of the 2017-18 season, and according to age curve data from Evolving-Hockey (assembled here by JFresh), will be a net-positive throughout the duration of his newly-signed deal as well.
Pushing it to age 36 is always a risk, especially with defensemen, who tend to regress quicker than forwards do once on the wrong side of 35, but even if Spurgeon regresses to be about two-thirds of his current self value-wise (taking it super literally here for the sake of the argument), he'll fetch his team almost 25 wins above replacement by the time his deal expires. Spurgeon is a very good offensive defenseman, and he's no slouch on the defensive end either. If it weren't for how bad he is on the penalty kill, I'd say there's a case for him to be considered a top-3 defenseman in this league. Some would say there already is one despite that.
The Wild have two very good defensemen on their hands here, even if one is basically useless on one end of the ice. I'd be curious to see what they do with Matt Dumba at this point. He's probably their best trade chip and had an injury-filled down year in 2019-20, but at his best, he's got a great shot and is only slightly below average defensively. He should get them a big return, and I could see him going now that Brodin has been signed and the Wild might run out of money soon. If he leaves, and I'm thinking ahead pretty far, then maybe Minnesota could roll with a Brodin-Spurgeon pairing, not for any specific reason other than it'd be fun and difficult for the other team to deal with.
Conclusion
Again, I feel like the Wild are a well-oiled machine, more so than they're given credit for. They have a great skater group full of guys who can finish and defend very well, and if it weren't for the goaltending and poor discipline, I'd say they could be a Cup contender. The one knock on them has been their prospect pool, but Mr. Kaprizov should be on his way over to North America pretty soon - and he's not the only one to be excited about in this group. They have goalie help on the way in Hunter Jones, which culminates to a not-too-bad present with a pretty bright future. I don't think there's any argument that they'll be up against the cap ceiling fairly soon, but that isn't a product of poor management (with the current regime, at least. I'm not going to be generous to Chuck Fletcher here). They've developed some very good players, specifically defensemen, and they're paying them as they deserve to be. Such is the case with many good teams, though, the Wild have to manage the remaining money they have well on the way to contention, and with a few bounces, could make some noise in the near future. If it gets to that point, I have a hard time envisioning Brodin and Spurgeon not being a big part of their success. As well, one thing hockey has taught us is that if you rack up the wins, no one complains about the contracts.